Dual trait herbicide tolerance extends IWM options
Plant breeders have incorporated single trait herbicide tolerance into many canola, cereal and pulse varieties and Australian growers have readily adopted the technology that provides alternative weed control options in-crop. The latest development in the field has been the release of a canola variety with dual trait herbicide tolerance, a first for Australian crops.

Justin Kudnig, Pacific Seeds canola technical manager says the new dual-tolerance canola hybrids released this year, Hyola® 525RT® and Hyola® 725RT®, will add to the number of options growers have to tackle weeds throughout the crop rotation.
The widespread, and often intense, adoption of these herbicide tolerant varieties has raised some concerns that they may increase the risk of herbicide resistance in weeds. When used as part of a planned and strategic rotation however these crops and their tolerance traits can be used to drive down weed numbers across the rotation.
Traits 'built-in' to varieties through conventional breeding include tolerance of imidazole ('imi') and triazine herbicides. In canola (and cotton) there are also genetically-modified (GM) varieties that endow tolerance to glyphosate.
Justin Kudnig, Pacific Seeds canola technical manager says the new dual-tolerance canola hybrids released this year, Hyola® 525RT® and Hyola® 725RT®, will add to the number of options growers have to tackle weeds throughout the crop rotation.
"The traits these varieties bring to the table are particularly valuable in situations where growers are facing serious resistance to clethodim," he said.
"Hyola® RT® canola will tolerate 'over the top' applications of both the knock-down Roundup Ready Herbicide with PLANTSHIELD and residual triazine herbicides. While both herbicides may be applied to the same crop, tank mixing of the two herbicides is currently not registered."
The herbicides should be applied at full label rates and according to the label conditions and Monsanto's Roundup Ready® canola Crop Management Plan (CMP).
Mr Kudnig said growers in both the cotton and canola industries who have adopted Roundup Ready technology have embraced the stewardship programs designed to protect the technology and the world's most valuable herbicide, glyphosate.
Professor Stephen Powles, director of the Australian Herbicide Resistance Initiative said the high level of compliance in the cotton industry, where 90% of the Australian cotton crop is currently Roundup Ready, has been successful to date.
"The adoption of herbicide tolerant varieties must always be seen as another tool in a diverse suite of weed control tactics, applied strategically on a paddock by paddock basis," said Professor Powles.
"Decisions must be made with consideration to the weed burden present in the paddock. If the weeds are resistant to 'imi' herbicides then growing Clearfield varieties will not help control weeds, similarly if weeds are triazine or glyphosate resistant then the single trait TT or RR varieties will not assist in weed control."
Professor Powles reiterates the need to support technologies such as the single and dual trait canola varieties with other techniques such as harvest weed seed control to remove any survivors.
Trials that Dr Chris Preston, University of Adelaide conducted on the effectiveness of resistant canola varieties on annual ryegrass show that triazine products applied to triazine-tolerant varieties achieve approximately 60% weed control compared to 92% control using glyphosate in Roundup Ready canola. In the dual-tolerant RT® variety growers can expect 97% control of weeds such as annual ryegrass, wild radish, silver grass and brome.
"The triazine-tolerant trait does carry a 10% yield penalty so hybrids with this trait incorporated are less likely to show advantage in low weed density paddocks when compared to RR hybrids," said Mr Kudnig. "In paddocks where there is a moderate to high level of clethodim (Group A) or Group B herbicide resistance in the weed population some growers may consider using the RT® technology in three successive canola seasons within a 10-year period to drive down weed numbers as a short-term strategy."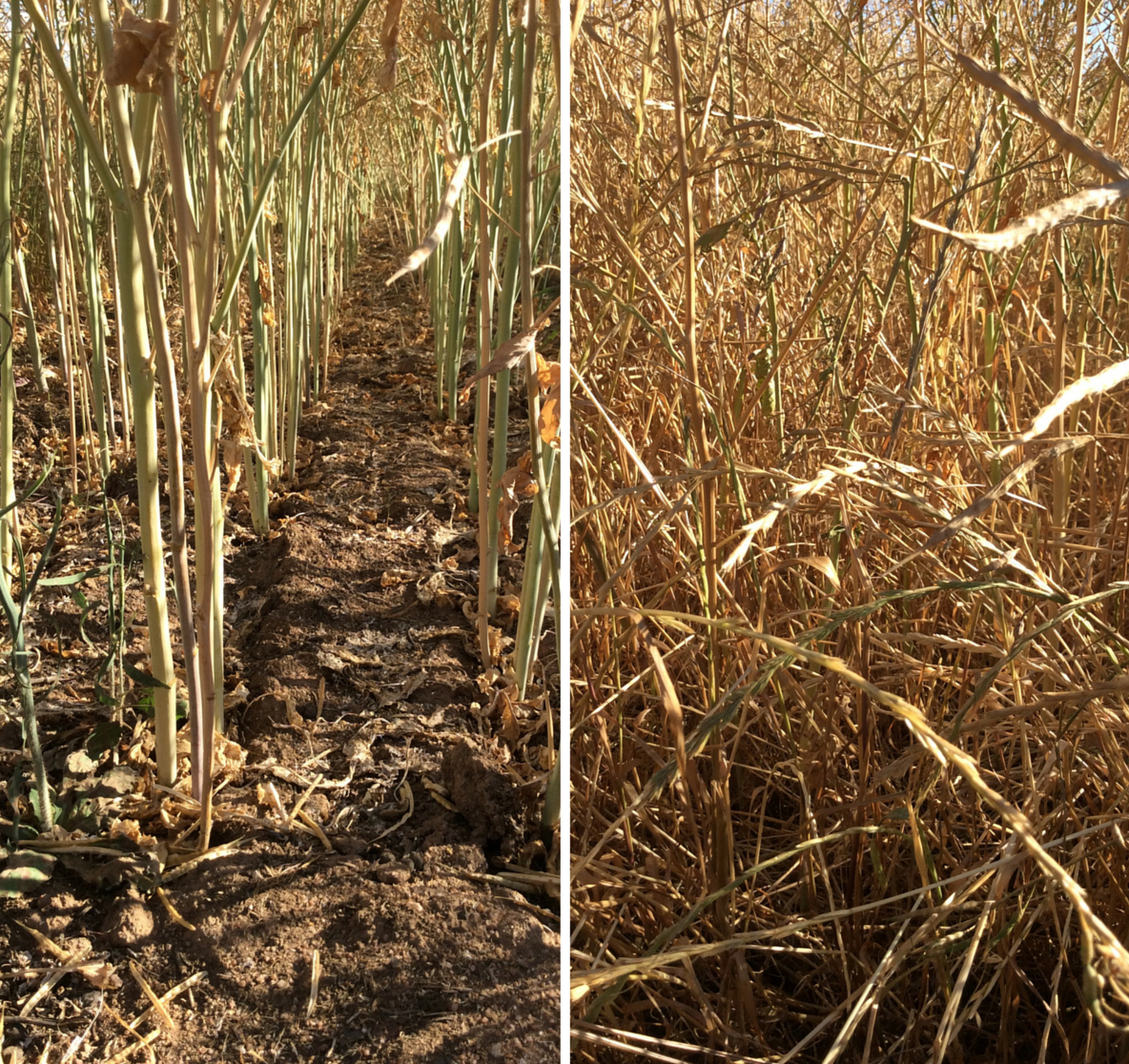 In less serious situations the recommendation is always to rotate crops and herbicide tolerance technologies. The single-trait TT technology is currently adopted on 65–70% of the canola area, Clearfield varieties represent 10–20% of the area and the remaining 10–15% is Roundup Ready (RR).
In the 2015 season, Hyola® RT® has been sown on approximately 5% of the canola area, predominantly in Western Australia.
"Twice as much Hyola® RT® seed will be available next year and by 2020 we expect this dual-trait technology to represent about one-quarter of the Australian crop," he said.
Being able to apply triazine chemistry late in the cropping season helps control late flushes of weeds such as wild radish. The advantages of better in-crop weed control are long-lasting through reduced herbicide requirements in future crops as well as potentially higher yields in the current crop.
There are pros and cons surrounding the genetically-modified (GM) status of this variety that growers should take into account when deciding whether to include Hyola® RT® in their cropping plan. As a GM canola with an additional conventionally-bred trait for triazine tolerance, grain harvested must only be delivered to designated GM delivery points.
Extensive research and investigations are underway to achieve registration for tank mix applications of glyphosate and triazine for use in RT® canola, potentially for the 2016 season. This will increase the cost effectiveness of weed control in RT® canola and is also supported by the principle that mixing herbicides at full rates can delay the onset of resistance in weeds.
Research conducted in the United States shows that when growers use tank mixes with an average 2.5 modes of action (MOA) in the mix the risk of glyphosate resistance in weeds is 83 times less likely than when an average 1.5 MOAs are included in a tank mix.
The lead researcher, Pat Tranel concluded that 'rotating herbicides buys you time, mixing buys you shots'. In all instances herbicides must be applied according to the label rates and conditions and all components in the mix must be compatible.
Visit the Pacific Seeds website for specific details related to the use of Hyola RT technology. For more information about managing herbicide resistance, check out our 10 Point Plan.
Related Articles